On Saturday, July 17th, 2010 Rich Topham Jr. conducted a
Production Sound Recording for Film and HDSLR Workshop at
StudentFilmmakers.com 1123 Broadway, Suite #307, New York, NY 10010
Testimonials:
It helps me to achieve better professional sound. Rich was fantastic and totally prepared.
- Yves Dossous, Camera/Sound Assist.
The workshop has given me added confidence to go out on the field as a new filed mixer. Rich is absolutely excellent and knowledgeable.
- Ed Gutierrez, Sound Mixer / Director/ Producer
Techniques and tricks for hiding microphones (are helpful).
- Rob Sullivan, News Audio Technician
One of the best workshops I've ever been to. Answered so many questions. I'm starting a freelance sound business and this will help during set up.
- Shelley Smith
It was extremely helpful for me since I'm still starting to get a grasp of audio and sound mixing. Rich was great. Well prepared, organized and very inviting.
- Yanirys Sanchez
Rich was fantastic, incredibly knowledgeable, every approachable and spoke from experience. He did not have an attitude considering his experience in the industry.
- Daniel Azarian, Producer/Director
Troubleshooting was excellent. It solved a lot of frequent problem I ran into.
- Anastosia Hanney, Freelance sound
The workshop answers some of the technical questions I had with the boom on getting good audio.
- Sabrina Whyte
The workshop was great to all level. I took away many helpful tips. It is totally worth the price. Rich is very prepared - lot of props. Maybe could have had even more equipments.
- Dave Hall, Video Production
Learn about HDSLR sound and real-world production techniques from a six-time Emmy Award recipient and 30-year veteran in the motion picture industry.
Production Sound Mixing is the complex craft of recording crisp and clean dialogue and sound effects on the set during film or video production.
With experience in just about all aspects of sound and recording in productions and post-productions, Richard H. Topham Jr. has worked with many major films, televisions series, sitcoms, commercials and industrial videos. His clients include Paramount, Universal, Warner Brothers and all major networks, awarding him six Emmy Awards for sound recording. Rich is a member of Cinema Audio Society (CAS), Society of Motion Pictures Technicians and Engineers (SMPTE), Audio Engineering Society (AES) and National Technical Investigators' Association (NATIA).
DOOR PRIZE RAFFLE: One door prize raffle winner will receive a free SGM-1X Shotgun Microphone from Azden. (Retail price: $230.00)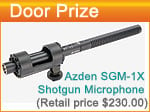 This continuing education workshop is for filmmakers and video makers of all levels who are interested in learning real-world applications and techniques related to production sound recording for film and video. The program is designed for Directors, Producers, and Sound Department Crew and Instructors who want to improve their skills, keep updated on tools of trade and take their productions to the next level.
When:
Saturday, July 17th, 2010
Where:
StudentFilmmakers.com
1123 Broadway, Suite #307, New York, NY 10010
Schedule:
9:30 am
Check-in; Networking & Coffee
10:00 am
Production Sound Recording Overview
12 -1:00 pm
Lunch Break
1 -3 pm
Practices and Techniques
Cost:
$95.00, lunch included
Discounts:
Students with ID receive 10% off.
What You Will Learn:
Psychology of Production Sound Recording.
What the Sound Mixer really hears.
What the Camera Operator, Director and the rest of the world hears.
Cocktail Party Effects.
Digital Recorders.
Sound for DSLR.
Microphone Basics.
Selection and Application of Microphones.
Boom Operator Techniques.
Practical Usage of Lavaliers and Wireless Mics. Including How-To Rig Lavaliers.
Advanced Use of Plant Mics.
Portable Mixers, including both ENG Mixers and Mixing Boards.
Set Etiquette.